Testimonials
... even more exciting for me was the realization that my Mosin fed all 5 rounds reliably...
I thank you again for the quality parts and advice.
My Mosin is reliable enough now to trust for self-defense even if I never use it that way.
Thank you again. - S.T.
_______
I got the accuracy shim kit and the gold standard sight post installed on my Type 53. I took it to the range this morning and was very impressed. With open sights at 100 yards... I had shots touching each other!
...Your products help get the most accuracy out of the Mosin family of rifles without spending several hundred dollars. I would not hesitate to recommend your products and service to other Mosin Nagant owners. - A.S.
_______
Anti-Rimlock Kit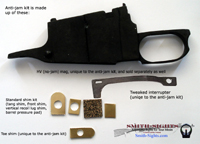 $ 58.00 USD
Christmas Prices!
Normally $68.
Please order now. I expect lots of orders again this year and don't want to disappoint anyone.
OK 👍 to order. Ships in a few days.
For specially troubled Mosins. Cures rimlock where other methods have failed.
• Tweaked interrupter
• Full accurizing shim kit
• Added magazine toe shim
• Finnish HV (no-jam) magazine
Please make sure you're using the two-piece ejector/interrupter assembly. The one-piece interrupter/ejector assembly will still work with the shims and the HV magazine, but you'll not be able to use the tweaked interrupter unless you have the two-piece assembly.
Free shipping within the United States by Priority Mail. I cannot ship these internationally.