Testimonials
... even more exciting for me was the realization that my Mosin fed all 5 rounds reliably...
I thank you again for the quality parts and advice.
My Mosin is reliable enough now to trust for self-defense even if I never use it that way.
Thank you again. - S.T.
_______
I got the accuracy shim kit and the gold standard sight post installed on my Type 53. I took it to the range this morning and was very impressed. With open sights at 100 yards... I had shots touching each other!
...Your products help get the most accuracy out of the Mosin family of rifles without spending several hundred dollars. I would not hesitate to recommend your products and service to other Mosin Nagant owners. - A.S.
_______
Anti-Rimlock Kit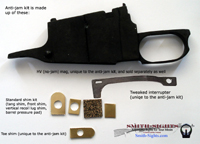 $ 72.00 USD
OK 👍 to order. Ships in about a week.


For specially troubled Mosins. Cures rimlock where other methods have failed.

• Tweaked interrupter

• Full accurizing shim kit

• Added magazine toe shim

• Finnish HV (no-jam) magazine

Please make sure you're using the two-piece ejector/interrupter assembly. The one-piece interrupter/ejector assembly will still work with the shims and the HV magazine, but you'll not be able to use the tweaked interrupter unless you have the two-piece assembly.



Free shipping within the United States by Priority Mail. I cannot ship these internationally.
Steel Pillar Bedding Kit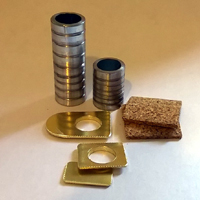 $ 48 USD
This kit has been widely requested.
The shims allow a customizable fit.
The pillars are steel, unlike others, which are aluminum.
These pillars isolate the screws from horizontal movement so that they have no chance of cracking the stock. The recoil goes solely to the recoil lug crossbolt, as is the intention of the rifle design.
Mosin Improvement Kit
$ 48 USD
Contains the fitted ejector, trigger spring and shim kit seen above. Save when you buy all three!
This kit promotes accuracy and increases your shooting enjoyment.
If you're NOT concerned about loading from stripper clips, see the BASIC Mosin Improvement Kit. Please allow 7-10 days to ship because I make the fitted ejector to order.
Mosin Accuracy Kit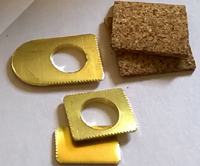 $ 18 USD
Based on the Finnish method, this shim kit vastly improves the accuracy of most Mosin rifles and carbines.
Included:
• 1 front and 1 rear shim. These are thick to eliminate random pressure points in the stock bedding.
• 1 recoil lug face shim. This keeps your Mosin's action tight against the recoil lug. This provides a tight action bed for accuracy and helps prevent loose screws and stock cracks.
• One barrel pressure pad. Taming barrel harmonics is essential to precision and accuracy.
• Instructions are included.
Trigger Slack Spring, Finnish Style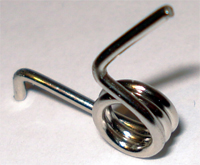 $ 11.00 USD
Fits all Mosins!
I was asked to make this available, so I have!
Patterned after the Finnish M28's trigger spring, this is the very same spring I use on the two-stage trigger I offer on a limited basis.
This spring will take up any slack and generally improves trigger feel.
I now use carbon steel instead of stainless. It's better for springs!
So What's the Difference?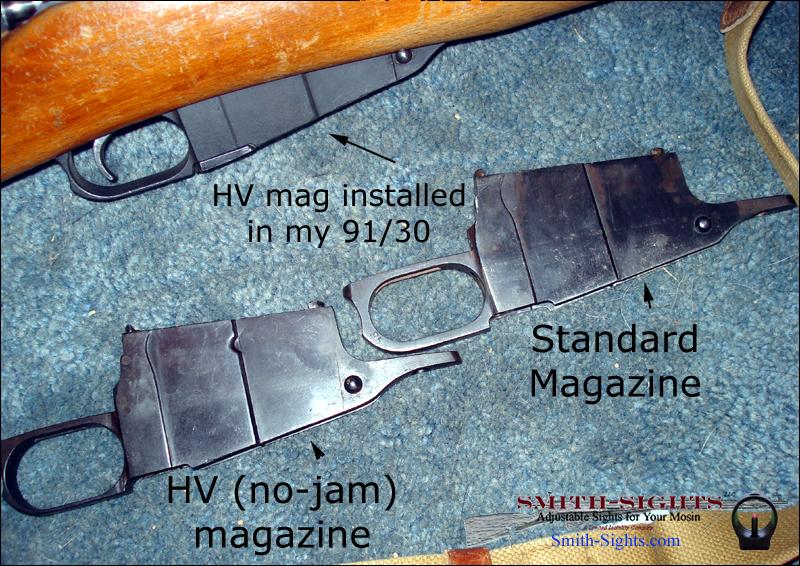 Though the interrupter should prevent the rims from locking, it still does sometimes happen if the interrupter is out of spec or is overloaded by a shrunken or damaged stock or if the action screws are too tight.

The Finnish No-Jam Magazine, used on the M39 Mosin rifle, ensures against failure by automatically stacking the rims in the magazine.