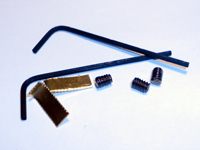 Though guaranteed against breakage, your Smith-Sight may experience natural wear with use, as may any mechanical part.

And, let's face it: Small parts and tools may become lost.

This kit contains everything you need to maintain your Smith-Sight. Kit includes two (2) shims to tighten loose wartime dovetails, three (3) set screws specially made for your Smith-Sight, and two (2) Allen keys used for sight adjustment.