Fully Adjustable Sights | Your best sighting solution for your Mosin-Nagant | Free Shipping

| Unlimited Lifetime Warranty |
Mosin BASIC Improvement Kit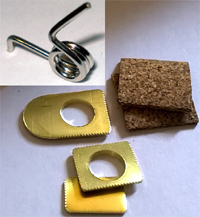 $ 15.00 USD
Christmas Prices!
Normally $20.
Please order now. I expect lots of orders again this year and don't want to disappoint anyone.
Contains the trigger spring and shim kit seen below.
Save when you buy both!
This kit promotes accuracy and increases your shooting enjoyment.

If you're concerned about loading from stripper clips, please see the standard Mosin Improvement Kit below.