About Me


I trained in gunsmithing with a Hoosier master gunsmith after finding limits of self-education in the area. As I was otherwise employed at the time, this was solely for my own betterment. Though I've followed other interests in the past, I keep coming back to firearms.

I love the 1911 platform and built my carry gun from a Rock Island frame, slide and barrel. I also enjoy fishing, hunting, camping, and shooting when I have time.

About Smith-Sights

Smith-Sights consists of one person, me. I am not a faceless corporation. I make your sight, trigger, etc, and fill your order while looking directly at your name. Chances are we spoke via email prior to you placing your order. To me, you're a person, not a dollar sign or number.

I price my sights in the comfort range of the average working person. Likewise, I don't earn more than the average working person. I do this to help others enjoy shooting more, and I like to believe that my work makes the shooting community a bit better.

About My Sights
Early in 2011 I purchased a Mosin-Nagant rifle. Though i had dealt with Mosin carbines prior to this, this was my first 91/30. The rifle shot well but high.
I made an adjustable sight much like the current Classic Target. After posting on various gun boards the problem I had and my solution, I found my Mosin wasn't unique in its high point of impact. People began asking me to modify their sights, and soon I had to put up a website and equip for production. These sights are adjustable for elevation and drift-adjustable for windage.
High Visibility
Drift adjustable for windage and adjustable for elevation, these sights solve your high shooting problems!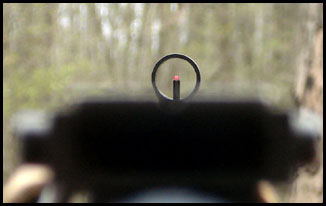 This is representative of the visibility of my fiber-optic sights in overcast conditions. Designed to be visible but not overwhelming, I purposely do not bend the top towards you. This gives you a nice, soft glow, nothing harsh.

Fully Adjustable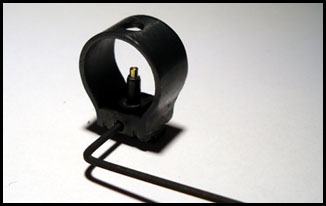 All my sights have a set screw. They are drift adjustable for windage and are adjustable for elevation - no exceptions! Shooting high? Raise the sight post. Shooting low? Lower it. Left? Move it left. Shooting right? Move it right!


Unlimited Lifetime Warranty
These sights are built to last. I take pride in my work and refuse to compromise in quality.
In the very unlikely event that yours should fail or you should accidentally break it, please contact me and I will repair or replace it.
Free shipping
I hate added shipping charges when I buy online. Your order will ship free within the United States!
I ship First Class Parcel and provide a tracking number. Prior to shipping, you will receive an automated email with the tracking number included.
These are custom sights
Please note that these custom sights are in high demand. As with most products in the firearms industry, there may be a small back order on the full custom sights.
Sight Services and Accuracy Shim Kits are never backordered. If you need your sight fast, please use my Sight Services!


Thank you for considering my sights and services. I hope you will choose me to provide your Mosin shooting solutions!
— Josh