Kafer's Kleaning Kits!
Mr. Kafer sells original, unissued cleaning kits for your Mosin-Nagant for the least expensive price I've seen. Of course I invited him here as I'm sure you fine folks can use them! A bugout bag essential!

Mosin-Nagant Rifle/Carbine Cleaning Kits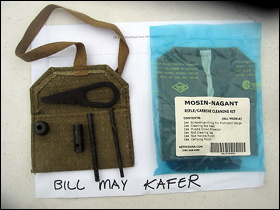 $ 0.00 USD
Rest in Peace, Mr. Kafer.

Price includes shipping.

New Unissued cleaning kit consisting of 1 each screwdriver/firing pin protrusion gauge, 1 each cleaning rod head, 1 each muzzle crown protector, 1 each rod cleaning jag, 1 each rod handle/punch, and 1 ea. carrying pouch.

All items are unused and unissued. They are original and not current M53 Chinese kits with wrong screwdriver. Each kit is packed in a Cortec heat sealed package to prevent rust/oxidation.